MatraX Gear InfluX CVT
Synthetic lubricant for continuous variable transmission type CVT (Continuous Variable Transmission) of belt and chain. It is recommended for CVT gearboxes from manufacturers such as Audi, BMW, Ford, Mercedes-Benz, GM, Honda, Hyundai, Mitsubishi, Nissan, Subaru, Suzuki and Toyota.
Performance Features and Benefits
Excellent fuel saving properties.

Anti-wear properties and high oxidation stability.

Improved friction resistance, which allows for a smoother operation.

High viscosity index and stability to the shear, which improves the durability of the transmission.

High lubrication capacity and protection of the transmission against wear and corrosion.

Excellent behavior at low temperatures.
Container sizes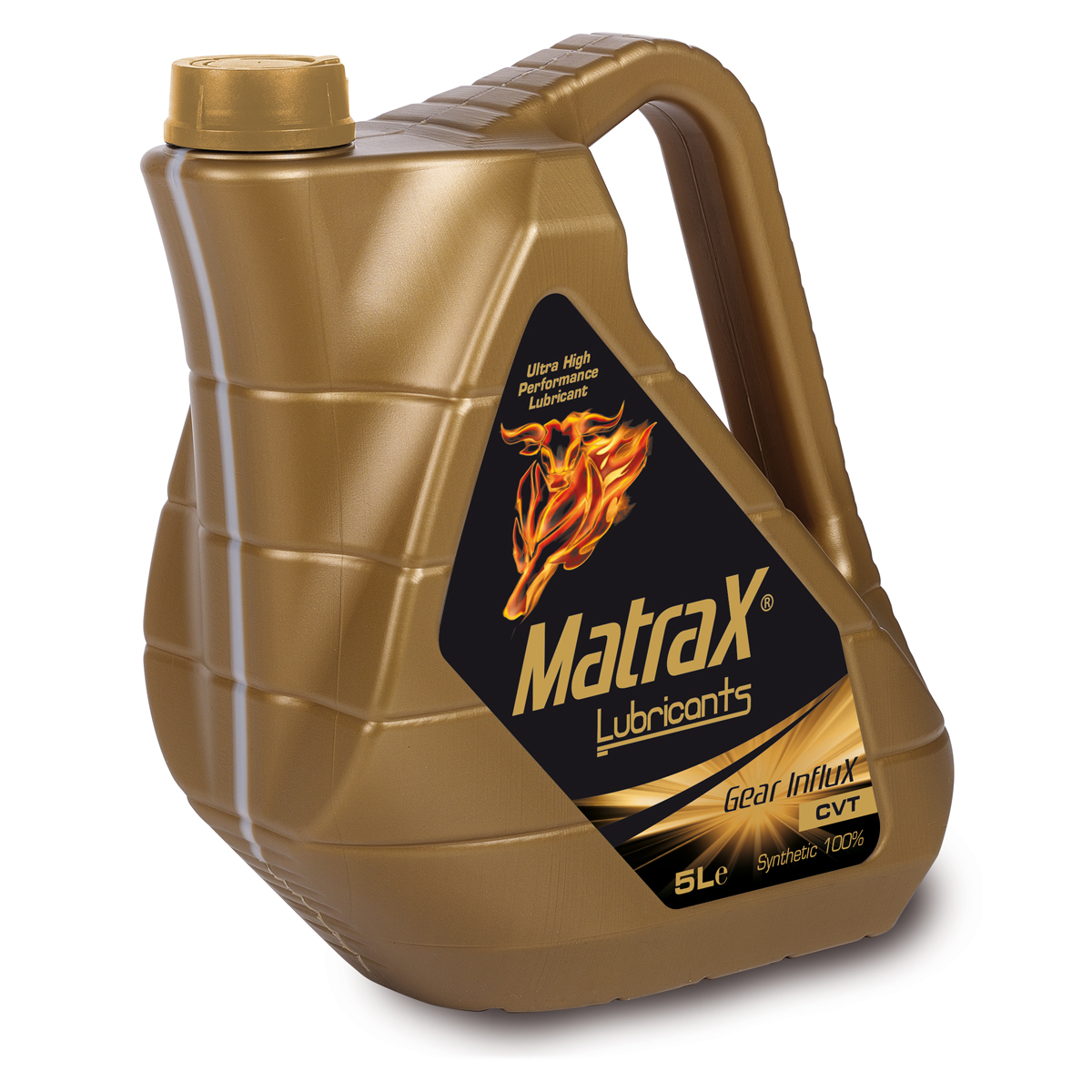 Specifications
VW TL 052 180 · VW TL 052 516 · MB 236.20 · Ford MERCON C · Ford M2C928-A · WSS-M2C933-A · BMW EZL 799A · GM DEX-CVT · GM CVT · Mitsubishi Dia Queen CVTF J1 · Mitsubishi Dia Queen CVTF J4 · Mitsubishi Diamond ATF SP III· Daihatsu Ammix CVTF-DC · Daihatsu Ammix CVTF-DFE · FCA CVTF+4 · Honda CVT Fluid / Multi Matic Fluid (HMMF) · Honda HCF-2 · Hyundai/Kia SP CVT-1 · Mazda CVTF 3320 · Nissan NS-1 · Nissan NS-2 · Nissan NS-3 · Subaru e-CVTF · Subaru Lineartronic CV-30 · Subaru Lineartronic CVTF-II · Subaru High torque CVTF · Subaru i-CVT F · Subaru i-CVT FG · Suzuki CVT Fluid Green1 · Suzuki CVT Fluid Green2 · Suzuki CVTF 3320 · Toyota TC · Toyota FE · Toyota WS
Health and safety
H317 - May cause an allergic skin reaction · P261: Avoid breathing dust/fume/gas/mist/vapours/spray · P272: Contaminated work clothing should not be allowed out of the workplace · P280: Wear protective gloves/protective clothing/eye protection/face protection · P302+P352: IF ON SKIN: Wash with plenty of water · P333+P313: If skin irritation or rash occurs: Get medical advice/attention · P501: Dispose of contents and / or containers in accordance with regulations on hazardous waste or packaging and packaging waste respectively · EUH208: May produce an allergic reaction.