To mark the countdown to the 2020 Vietnam F1 Grand Prix, Red Bull has held a massive exhibition in Hanoi this weekend. During a few hours, the streets of the capital city have become an improvised circuit. Former Formula 1 driver, David Coulthard, was the star of the show on board a 2011 RB7 to the delight the thousands of fans attending the event. The Scot, winner of 13  Grands Prix and 2011 world sub-champion, has shared the stage with Aston Martin driver, Jake Dennis.
The show was based around the My Dinh National Stadium, in the Nam Tu Liem district of Hanoi, along a 700-meter stretch which is to be part of next year's layout. The pair of British drivers have made countless manoeuvres and impossible pirouettes cheered on by the over 50,000 spectators.
A great kick-off event for the Vietnamese GP 2020
The organizers of the 2020 Vietnam F1 Grand Prix show,have made a fabulous presentation of next year's race, taking advantage of the massive influx of public and the media impact to provide information about the race. Every detail regarding the forthcoming GP including prices, schedules and special promotions has been given out at the festive event which included several musical performances.
The main purpose of the  2020 Vietnam F1 Grand Prix, event, in sum, was to serve as publicity for next year's race and introduce the F1 to an inexperienced audience and judging by the numbers, the initiative has been resounding success.
Red Bull RB7: F1 champion in 2011
The roaring melody on V8 of the RB7 seems to have seduced the Vietnamese's ears. That was the car with which Sebastian Vettel won his second Individual World Championship Title as well as the team's title in 2011. The German driver and his Australian teammate Mark Webber had 12 victories and 18 poles in 19 races that year.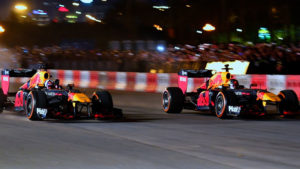 Possibly, not many of those present at the show knew that this racing car was famous for having an exhaust-blown diffuser. This technical ingenuity designed by Adrian Newey, allowed the car to direct hot gas over the diffuser, the aerodynamic structure in the rear of the single-seater which creates downforce.
This helped with the vehicle's aerodynamics, increasing the stability and the pace in the bends. Besides the controversial technical curiosity, what matters the most has been the great response of the public which has been left hungry for more Formula 1. Objective achieved!
Images of '2020 Vietnam F1 Grand Prix': Red Bull