Another crushing triumph for pole-holder Marc Marquez at this Sunday's 2019 French MotoGP in Le Mans ahead of both the Ducaties of Andrea Dovizioso and Danilo Petrucci respectively. Jack Miller had to settle for fourth after suffering some problems with his machine. Fifth went to Valentino Rossi.
This is the Spaniard's 47th victory overall and his second consecutive and third this season after Argentina & Spain. With his triumph at Le Mans circuit, the pilot from Lleida has not only asserted his dominance.
But Marc Marquez has also opened his distance with Dovi to 8 points who has in turn taken the second position from Alex Rins. The pilot from Barcelona only managed a tepid performance at the Loire valley.
And he finished tenth and falling to third in the standings at twenty points from the leader. A hard blow for the Suzuki driver who had arrived in France at just one point from the top.
This victory also brings the #93 from Honda on a level with Jorge Lorenzo as the fourth most successful pilots in the history of MotoGP. Above them are Rossi (89), Agostini (68) and Doohan (54).
Marquez' exhibition at the sixth race of the calendar has allowed him to extend his standings' lead up to eight points, send a message of strength to his adversaries, and demonstrate that what happened in United States was a mere slip.
The first three pilots on the starting grid, Marc Márquez, Danilo Petrucci and Jack Miller maintained their positions as the lights came out. Rossi got himself in fourth, while his partner Viñales fell to fourteen.
A couple of laps later, Miller and Rossi went ahead of Petrucci, temporarily ousting him from the podium. The Australian and the Italian pilots didn't want Marquez to escape. Meanwhile, Jorge Lorenzo took an acceptable seventh place, behind Pol Espargaro. 
Miller was putting a strong drive in his dispute for the lead with Marquez. In the fifth lap, both leaders engaged in a beautiful showdown which allowed for Dovizioso and Rossi to join them at the top. The battle was served between those fantastic four.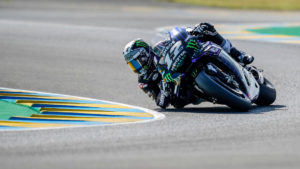 Maverick Viñales, on the other hand, was having a hard time. The driver from Rosas couldn't find his feet until he was finally taken out by Pecco Bagnaia in lap eight.
Marquez starts pulling away
Back at the head, Marquez was making it clear he did not want any travel companions. After the tenth lap, he started increasing his pace until he was four-tenths ahead of Miller. Two laps after that he had doubled that distance again. 
Seeing Marc Marquez slipping away Dovi threw an attempt to hunt Miller down. At this point, however, nobody could catch up with the leader who by lap fourteen already had a second over Miller. Meanwhile, Alex Rins, second in the standings, had dropped to the eleventh position.
At just ten turns from the checkered flag, Marc Marquez would definitely break away from the rest of the pack. The sensation at times that this could have been a group race turned out to be just a mirage.The gap with Miller and Dovi was now two seconds while the latter continued in their fight for second place. The Australian, who was struggling with mechanical issues, was finally overtaken by Dovi, while Petrucci was also closing in from behind.
With seven laps to go Marc Marquez could finally relax and enjoy the atmosphere coming from the stands. At this point, he was already preceding Dovi by 3.9 seconds. Behind followed Petrucci and Miller in third and fourth positions respectively. A little below, local lad Fabio Quartararo snatched the ninth place from Lorenzo after a beautiful fight with both pilots exchanging positions at every curve.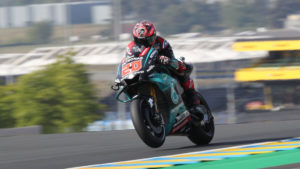 The Spaniard still seems at odds with his new machine. Rossi was still running fifth but had every intention to steal the fourth place from Miller. At just five laps till the end, the Australian was fizzling out.
With the victory already in Marc Marquez' hands, all eyes turned to the fight for second place which was unfolding between both Ducaties.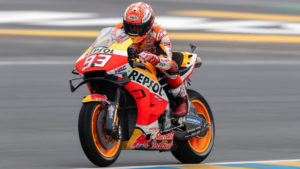 There was an incessant exchange of blows between Dovi and Petrucci, the latter attempting to steal the coveted position from his head of ranks. Finally, the current world runner-up won the arm wrestle to his teammate, who closed the podium. Behind came Miller and Rossi with Pol Espargaro sealing a sensational sixth place.
Images: Repsol Honda, Yamha & MotoGP.com