On last sunday, Marc Marquez (Repsol Honda) has sealed a commanding victory this Sunday in the 2019 Argentina MotoGP Grand Prix at the Termas of Rio Hondo circuit. Valentino Rossi (Yamaha) was second after passing his compatriot Andrea Dovizioso (Ducati) on the last lap. The South American victory, second round of the championship calendar, has pushed the Spaniard driver to the lead of the standings.
Marquez sustains a love-hate relationship with the Argentinian circuit that goes way back. InTermas, the Spaniard has conquered 5 poles over 6 races and has had three victories in total. He also has a history of touches and falls, particularly involving his main adversary Valentino Rossi.
The circuit's direction (clockwise) is also not one of his favourite configurations. It always seems to be all or nothing for Marquez in Termas. He either wins or finishes out of points. Luckily, it was a victory this time around, his happy third.
Marquez gave everyone another one of his master classes this Sunday and a thrilling exhibition of his superiority. He got the pole, the victory and the fastest lap, letting everyone know loud and clear that he is back and in top form. He has demonstrated that he is fully recovered from his injured shoulder and he has done so at this circuit, which a priori, is not one of his favourites. The Spaniard received the checkered flag 9,8 seconds! before than Rossi & Dovi.
M
a
rquez
 is off to a lightning start
The Spaniard has given an unapologetic lesson, dominating the race from beginning to end, and imposing a relentless rhythm from the start. After the first couple of bends, he was gone. None of his desperate pursuers was able to keep up with his rhythm for even a moment.
As soon as the traffic lights have gone off, Marquez pulled away and soon was going solo. The tough fight that was unfolding behind between his rivals, Valentino Rossi and Andrea Dovizioso, only helped the Spaniard increased his advantage. Marquez was clocking a whole second per lap faster than his opponents at this point. It didn't matter that he was being chased by the two Italian giants; the Spaniard continued increasing his lead.
His progress was just outstanding. In the first 10 laps, he had accrued 7 seconds, which became 10 seconds by lap 15 and 17 by lap 20. The Repsol Honda #93 had demolished his rivals hopes for a win and so these were left to scrap for the other two podium steps which still had no owner.
Meanwhile, Cal Crutchlow, one of the few contenders which could perhaps have rivalled Marquez was unfairly penalised. Race management handed the Briton a ride-through penalty for a presumed jumpstart. The brave British driver fell from the sixth to the 13th place as a result.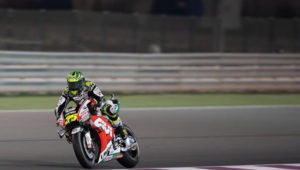 M
a
rquez 
wins and 
D
ovi
and 
Rossi 
fight for second
Marquez triumphantly crossed the checkered flag unbothered by the rest. So much so that his team even asked him to lower the pace in the last turns. Marc followed through with the advice and slowed down a whole two seconds until the finish line.
Behind him, Valentino Rossi and Andrea Dovizioso were staging a passionate final battle for second place. There were a few exchanges of blows, after which the smartest of the two, Il Dottore, came out trumps.
Rossi finally surpassed the Ducati #4 in the last turn, finishing second, ahead of his defeated countryman, who also lost the lead of the standings to Marquez.
Jack Miller was fourth ahead of Alex Rins, who preceded Danilo Petrucci, sixth. In the final moments of the race, a battle also broke out between two Yamaha riders. Franco Morbidelli attacked Maverick Viñales for seventh place, but the two were knocked out as a result.
'2019 Argentina MotoGP Grand Prix' Images: Repsol-Honda, Ducati & Yamaha.