by M.C. – photo: dakar.com | The Dakar Rally is in itself a mythical race and this 40th edition, which took place between the 6th and the 20th of January this year, will remain in everyone's memory as one of the toughest so far in South America. Two names will also be covered in glory for years to come as the winners of this hardest of tests: Sainz and Walkner; the Spaniard Carlos Sainz, with co-pilot Lucas Cruz (Peugeot Team) in cars; and Austrian Matthias Walkner (KTM Factory Racing) on two wheels. For Sainz this is his second Tuareg, after winning in 2010, and a record-breaking victory at the same time as the oldest driver (he is 55 years old) to ever win the competition. It is a first for Walkner.
Both champions were part of the initial favourites' list but many of the names they shared that honour with were forced into early retirement. In cars we had to bid farewell to Nani Roma (Mini) and Sebastien Loeb (Peugeot Team) in the first half of the race, and closer to the end, on the last but one day of the competition, Bernhard Ten Brinke (Toyota) had to say goodbye. In motorbikes both Sam Sunderland (KTM) and Adrien Van Beveren (Yamaha) were forced to withdraw after suffering two serious accidents and Joan Barreda (Honda), was unable to continue after carrying an injury for several days. The French Cyril Despres (Peugeot) managed to finish the race and support his team-mates Sainz and Stephane Peterhansel at the same time, but he was out of the fight for victory by the half waypoint.
Peterhansel and Al-Attiyah also leave their mark
It was none other that Monsieur Dakar himself (Peterhansel) that provided a lot of the excitement as he leaded the rally for several days up until stage six to La Paz, when his car broke-down loosing almost two hours as a result (1h 47' 56"). He carried on trying to make up some of the lost time and managed to win a few stages but when he was very near achieving a second position he suffered another breakdown and lost any chance of podium. He none the less managed a fourth position. Worth mentioning are also the efforts of Toyota's Qatari driver Nasser Al-Attiyah, who despite not posing a serious threat until the middle of the race, kept a steady and determined progress winning four stages as a result. He was then a serious candidate for the title right until the end and ended up with a well deserved silver 'Tuareg'.
Benavides doesn't disappoint
In motorbikes there are other achievements worth mentioning besides Walkers' winning consistency and Sunderland, Van Beveren and Barreda's (all retired) admirable skill. Notably the French Antoine Meo's two stage victories and Australian Toby Price's three stage victories and third podium position. But most remarkable is Argentinian Kevin Benavides' second place at this his second ever Dakar Rally.
Over 140 withdrawals
The most African Dakar in Latin America, as it has come to be known by many, has left a great number of casualties along the way; 144 is the official number. In other words, from the 335 vehicles that started in Lima only 191 crossed the finish line in Cordoba (Argentina); that is, only 57% have made the dream off in is hing come true. The particular harshness of this edition, with ex-pilot Marc Coma as route director, has been praised by most pilots, which have felt it "recovers the Dakar spirit".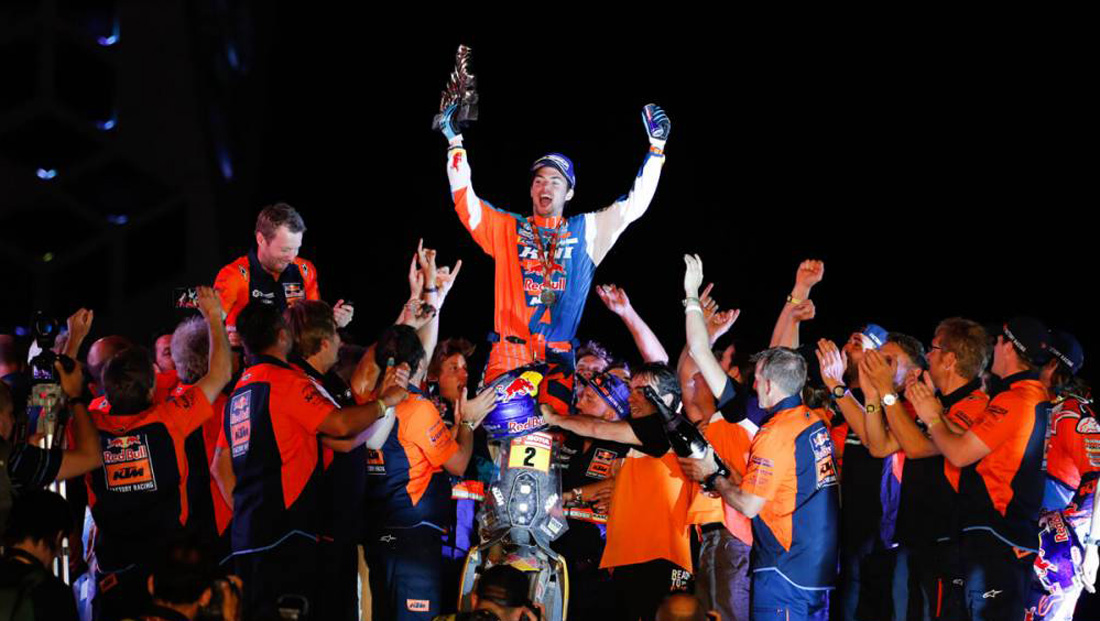 Results of Dakar Rally 2018
General CARS classification
Carlos Sainz (Team Peugeot) 49h 16′ 18"

Nasser Al-Attiyah (Toyota Gazoo Racing) +43′ 40"

Giniel De Villiers (Toyota Gazoo Racing) +01h 16′ 41"

Stephane Peterhansel (Team Peugeot) +1h 25′ 29"

Jakub Przygonski (Orlen Team) +02h 45′ 24"
General MOTORBIKES classification
Matthias Walkner (KTM Factory Team) 43h 06' 01"

Kevin Benavides (Honda Team) +16′ 53"

Toby Price (KTM Factory Team) +23′ 01''

Antoine Meo (KTM Factory Team) +47′ 28"

Gerard Farrés (Himoinsa Racing Team) +9′ 33"
[/columns]
Stage winners in CARS:
STAGE 1: Nasser Al-Attiyah (Toyota)
STAGE 2: Cyril Despres (Peugeot)
STAGE 3: Nasser Al-Attiyah (Toyota)
STAGE 4: Sebastien Loeb (Peugeot)
STAGE 5: Stephane Peterhansel (Peugeot)
STAGE 6: Carlos Sainz (Peugeot)
STAGE 7: Carlos Sainz (Peugeot)
STAGE 8: Stephane Peterhansel (Peugeot)
STAGE 9: CANCELADA -por inclemencias meteorológicas-
STAGE 10: Stephane Peterhansel (Peugeot)
STAGE 11: Bernhard Ten Brinke (Toyota)
STAGE 12: Nasser Al-Attiyah (Toyota)
STAGE 13: Nasser Al-Attiyah (Toyota)
STAGE 14: Giniel De Villiers (Toyota) 
Stage winners in MOTO:
STAGE 1: Sam Sunderland (KTM)
STAGE 2: Joan Barreda (Honda)
STAGE 3: Sam Sunderland (KTM)
STAGE 4: Adrien Van Beveren (Yamaha)
STAGE 5: Joan Barreda (Honda)
STAGE 6: Antoine Meo (KTM)
STAGE 7: Toby Price (KTM)
STAGE 8: Antoine Meo (KTM)
STAGE 9: CANCELADA -por inclemencias meteorológicas-
STAGE 10: Matthias Walkner (KTM)
STAGE 11: Toby Price (KTM)
STAGE 12: CANCELADA EN MOTOS
STAGE 13: Toby Price (KTM)
STAGE 14: Kevin Benavides (Honda)
The best of Dakar 2018