One of the big enigmas surrounding this forthcoming Formula 1 season is indeed that of the French team. The legendary Renault squad wants to smile again and to do memorable things on the tarmac. Past is the glorious decade (…and how fast time passes) of the wonderful double podium with Fernando Alonso at the wheel. Then there have been some turbulent years to say the least, including giving up the grid altogether for ten years as a team, and a very discreet last season's performance.
This past Tuesday the Renault Sport F1 Team and their brand new car were revealed to the public.  New corporate colours that go back to the historic black combined with a softer yellow than in previous designs. It is the new look for a very streamlined single seater compared to its predecessor; more compact, shorter between the axis and more aerodynamic. "The goal is to finish fifth at the Constructors' Championship", announced Jerome Stoll, president of Renault Sport Racing. A pretty high stake for a team that reached only eight points in the whole of 2016, just above Sauber and Manor and which hardly showed enough talent and mechanical power to compete at any point in the season.
Hulkenberg… and Mapfre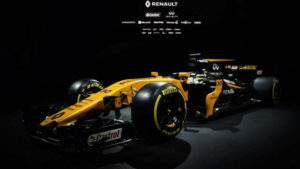 The recent announcement of Mapfre's sponsorship signifies another important boost for the French team. On top of this, the French have also been able to keep for themselves one of the most attractive names on the grid: the German Hulkenberg (ninth last year with 72 points in Force India) replacing the erratic Magnussen. Hulkenberg will also be riding a single seater some are already betting will compete against the very best.
The key will no doubt lay on the new power units the Renaults will be fitted out with. The engineering work has been intense over the past few months and the result is an engine with an architecture that is a bit closer to that of a Mercedes and which, according to technical director Bob Bell, "Is more or less at the level of a Ferrari".  They are confident that its performance, together with all other technical improvements, will allow for a qualitative step up at the races and lift them to the higher rankings of the championships.
Next Monday with the start of the training sessions we will see how far can the new single-seater go at the hands of Hulkenberg and Joylon Palmer. At the horizon, the new season.