MatraX Lubricants has the pleasure to introduce a new stage in its Social Media presence. This new stage represents a time of change, growth and new challenges that our company has undertaken. We are launching a brand new and completely updated website with a renewed focus on news communication and interaction. In our new site you will find both our corporate content; our company's strategy, values and products; together with a very dynamic and communicative news section where we will broadcast our passion for motorsports and the automotive industry. Welcome and thank you for visiting our web page, we invite you to come with us in this new journey.
Modern and accessible
This new website features an attractive and modern design that adapts to all formats (computer, smartphone, tablet…) as well as having all SSL security certificates. It aims  to bring MatraX and the end user closer together through a simple and attractive digital experience.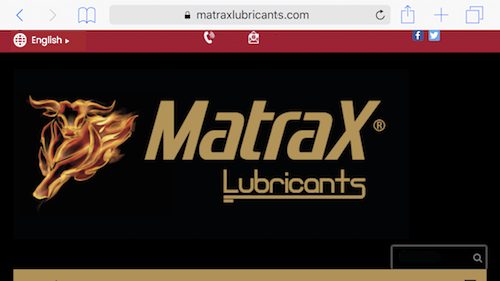 Complete
The individual product fact sheets detailing all of our lubricants' characteristics and technical specifications are an invaluable aid for the user when he is faced with the task of choosing the product that best suits the needs of his vehicle or machinery. Also in our new web you will find all of MatraX Lubricants' corporate information, its work ethics, its values, its social and environmental commitments and the many reasons why our customers trust our brand.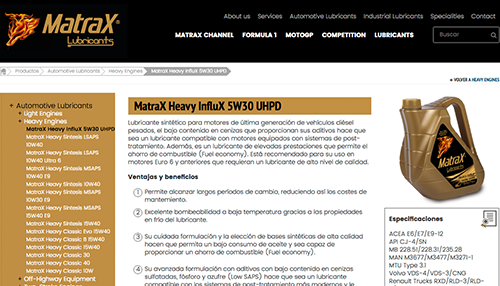 MatraX Channel
This new web also includes the news section, MatraX Channel. This is a dynamic news outlet reporting on the world of motorsports as well as broadcasting all major international competition highlights (Formula 1, MotoGP, NASCAR, Indycar, Rally…). Also there will be other content and curiosities of the world of cars, driving and the automotive industry.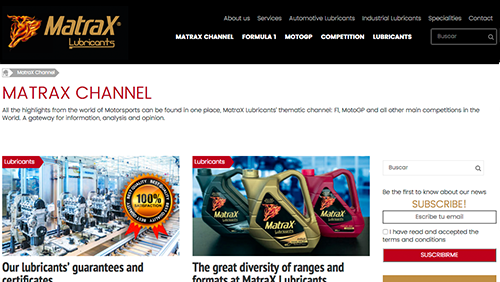 Close to you
Our interactive content strategy wouldn't be complete without a prominent presence in social networks. You can follow MatraX Lubricants' different profiles on Facebook, Twitter, Instagram and Youtube. These allow us to keep the information constantly flowing and directly interact with our end users.