Spain is still shaking after the terrifying accident suffered by Carlos Sáinz, rolling down a 20 meter hill after taking a corner at excessive speed and with only 5 kilometres left to the finish line. The veteran driver, twice world Rallies' champion, was left out of another Dakar remarkably escaping any serious injury. It was nonetheless a disappointing retirement particularly after the withdrawal a few days earlier of a distinguished contender, the Qatari, De Nasser Al Attiyah, another title favourite.
At its halfway point, the South American edition of the Dakar rally has also to regret the retirement of other favourites (Toby Price is a good example), so much so as to appear somehow orphan of reference names at the rankings. Undoubtedly, there is a toll to pay for pushing in this years' race attractiveness: Its extreme toughness. "We said that arriving in La Paz would be the first victory and that is how it has been", claimed Marc Coma, front man of the organisation this Sunday. Riders have enjoyed a rest day at the Bolivian capital after the hectic first days which confirm the expectations for an extremely hard course this year.
One in five contestants already dropped out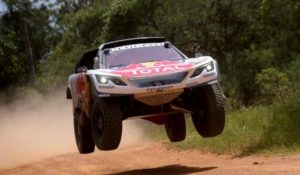 The race has so far suffered a mixture of extreme heat, long spells of torrential rains, and other adverse meteorological phenomenon. These circumstances forced the shortening of the first stage (Tupiza – Oruro) to a third of the original circuit, and the cancellation the sixth stage (Oruro – La Paz) after and unexpected torrential downpour at the camp turned the track into an impassable bog. Several of this weeks' stages are also pending confirmation for their viability, particularly the Monday and Tuesday ones,  in marathon mode and with no technical assistance.
The toughness of the race is also underlined by yet another statistic: In the first week, which includes one cancelled stage and a drastically shortened one, there has been 75 withdrawals, this is one in five participants, many of them high level contenders. The dropping out rate has been specially draining amongst the motorcycles with 33 retiring so far out of the initial 144. On the other hand 17 out of 77 cars have now left the race.
The words of Coma, marking the arrival at La Paz as a "victory" in itself are substantiated. The race enters now a deciding phase with new added challenges: the crossing of the Uyuni dessert, the biggest and highest salt field in the world (3.600 meters) and the thousand kilometre course between Salta and Chilecito on Wednesday, by he Andes mountain range.